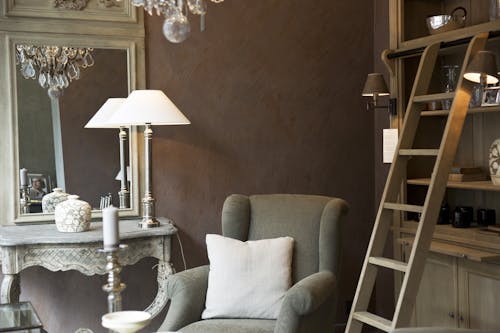 Until I did a little research, I had never heard of slow decorating, but discovered that it is a new term for an old philosophy.
As I've said before, it's very easy to go to a catalog or store and buy a vignette that other designers have already put together. However, to create a more authentic home that reflects your own taste, is curated and interesting, slow decorating requires – well, I have to channel Captain Obvious – you go slowly.
House Beautiful calls it the "perfect anecdote to (our) fast paced lives."
If you're a fan of HGTV like I am, you can't wait for the last five minutes of the show for what they called "the reveal" – when the homeowners get to see everything all pulled together. With slow decorating, we have to discard that approach and completely change our mindset. Slow decorating requires patience, time to get to know your space and style, and most importantly, the ability to live with a work-in-progress.
Look for inspiration in magazines and catalogs, and from online sources like Pinterest (my personal fav), Instagram, and Houzz, to determine what you like for colors, style, window treatments, accessories, etc. and, in a short time, themes and commonalities will emerge. Then begin with items you need like furniture, rugs, and window treatments before you buy pillows, wall art, and other accessories.
So, if you have the luxury of time, embrace the journey and build a beautiful home that is collected, layered, and exudes your own personality. In the end, you will discover that you compromise less, actually spend less because you're not buying trends, and stress less on styling your space on a self-imposed deadline.
Remember, "the best things come to those who wait."
With many satisfied clients since 2008, Barbara Graceffa owns and operates Secretary of the Interior in Quincy, MA offering decorating services at reasonable rates. If you have a blog topic to suggest or need professional help with decorating, downsizing, decluttering, or home staging and relocation services or wish to learn more about her decorating workshops and quilt trunk shows, please contact her via her website www.sec-interior.com or phone 617.921.6033.