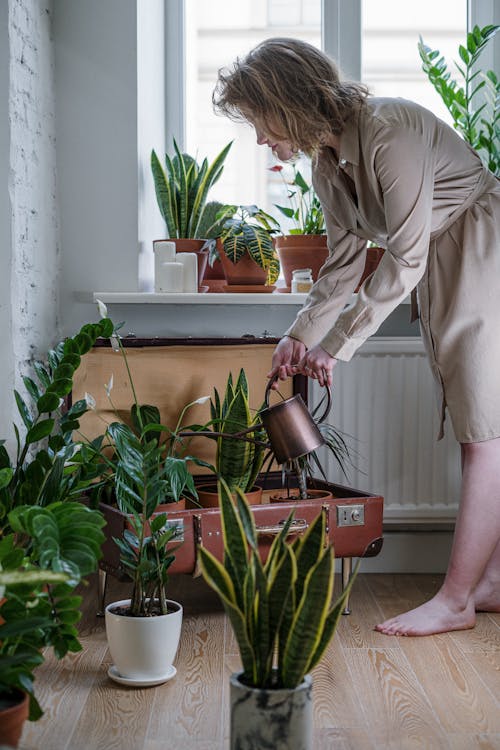 Beyond the aesthetic value that plants add to a room, they also bring life – literally! – to a space.
Doctors agree that plants can lower your blood pressure and stress levels, energize your mind, and enhance sleep. They also naturally purify the air by filtering out pollutants from, for example, other décor pieces like certain furniture fabrics, paint, and candles. And they beget aromatherapy benefits, too.
So whether you prefer green house plants, fresh cut flowers, a window herb garden, even good quality faux foliage or any combination of these, plants can fill in empty spaces and add color, shape, softness, and texture to your home, much like any other home decorating accessory.
Consider adding a floor plant or small tree to fill in an empty corner. Place an ivy plant on top of your bookcase so its hanging vines soften the straight lines of the furniture piece. Locate plants high and low and spread them throughout the space. As with any color in your décor, use the green in at least three locations for both continuity and to make your eyes roam around the room. Consider creating a tablescape down the middle of your dining room table or building a living wall in a grid pattern or hanging plants from ceiling hooks.
Unless you are like me and kill everything except a cactus, add a variety of plants and enjoy the various leaf sizes and shapes and blossom colors.
And don't overlook the pots in which you house your plants. Ditch the plastic ones; opt for ceramic, wooden, or lined wicker baskets for a more attractive look. Plant stands come in many finishes and styles, too, or think outside the box to position a plant on a child's chair, a small ladder, or an old wooden highchair. In outdoor settings, place plants on an old tricycle or, as my mother once did, inside an old gas grill – it was really cool!
With many satisfied clients since 2008, Barbara Graceffa owns and operates Secretary of the Interior in Quincy, MA offering decorating services at reasonable rates. If you have a blog topic to suggest or need professional help with decorating, downsizing, decluttering, or home staging and relocation services or wish to learn more about her decorating workshops and quilt trunk shows, please contact her via her website www.sec-interior.com or phone 617.921.6033.