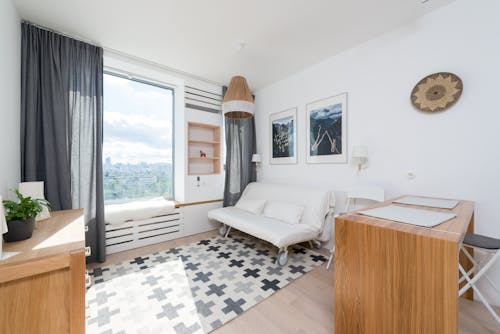 If you believe that black and white can be cold and stark, keep reading because it can be striking, yet classic and simple, too.
Better Homes and Gardens advises, "Take cues from high fashion, and go for bold contrast – but the most important thing is that you absolutely must be ready to make a statement or else it will fall flat."
Most people are comfortable using white in their décor; it's the black that creates anxiety. Decorators know that every room needs a little black. But "using the color black as a focal point of color grounds, anchors, and adds a sophisticated look to a room," notes The Spruce blog.
This color combination works perfectly for any design style. Pair it with metallics in a contemporary living room. Alternate black and white chairs around a rustic table for a modern farmhouse look. Choose toile and gingham fabrics in black and white for a cottage home. In traditional rooms, go for damask, houndstooth or paisley patterned fabrics, striped wallpaper, or black lampshades. Boho lovers can hang a wall-sized Mandala tapestry.
According to The Spruce, black and white "gives a fresh, clean, unquestionably elegant look to any room." In the living room, use black paint on the window trim, toss some black and white pillows, hang black iron light fixtures, or redecorate with a graphic wallpaper on one accent wall. In the bathroom, try a black marble countertop over a white vanity with shiny fixtures and use black grout with white subway tiles. In the kitchen, white cabinets with a black island or all white cabinets with a black and white backsplash produce striking results. In the bedroom, the simplicity of a white comforter pairs well with a patterned black and white bed skirt; if you are daring, paint one wall black – it will help you sleep! In the nursery, black and white stimulates a baby's brain so consider a mobile or wall art in these colors and you'll be raising a little Einstein!
If you're afraid to take the high-contrast leap, try black and cream, or charcoal and white, or add one punch of color – any color – to the scheme because black and white are neutrals and will go with any other hue. In fact, be sure to add green plants to add life to your black and white décor. And start small; install a black and white tile floor in your white powder room, add black and white photos to your den, or buy a striped runner for your hallway.
One final tip, add wooden tones to warm up the black and white decor. It makes a significant difference!
With many satisfied clients since 2008, Barbara Graceffa owns and operates Secretary of the Interior in Quincy, MA offering decorating services at reasonable rates. If you have a blog topic to suggest or need professional help with decorating, downsizing, decluttering, or home staging and relocation services or wish to learn more about her decorating workshops and quilt trunk shows, please contact her via her website www.sec-interior.com or phone 617.921.6033.